1800 MT SKODA Direct Aluminium Extrusion Press
Manufacturer: SKODA, Czech Republic
Built: 1964
Billet, actually in use: Ø 178 mm
Hydraulic Drive Medium: water-oil emulsion
Auxiliary movements realized by oil hydraulics.
The press is relatively easy to convert into oil hydraulics.
General technical characteristics
Press force 1770 tonne
Number of tie rods 4
Max. water pressure (line 1 and 2: for main ram and discard shear) 25 MPa
Max. oil pressure (auxiliary movements: container and bilet loader) 5 MPa
Possible to use container diameters 135, 155, 185 [mm]
Adjustable extrusion speed 0,2 - 20 mm/s
Extruded products max. diameter 180 mm
Billet max. length 700 mm
Ram max. stroke 1700 mm
Container sealing force 180 t
Return force of the main ram 145 t
Discard shear force 20 t
Container: moveable, induction heated,
* Dead cycle time with burp cycle: 55 s
Induction billet heater Jatgin 175/450
Supply voltage 3 x 380 V,50 Hz
Max power 450 kW
Control voltage 220 V 50 Hz and 24 V
Billet heater working length 2000 mm
Billet length 200- 600 mm
Billet heater cooling water requirements 46 l/min
Water inlet temperature below 18°C
Water outlet temperature max 45°C
Output - minimum with temp 450 C 2000 kg/h
Total weight of billet heater - approx 22 t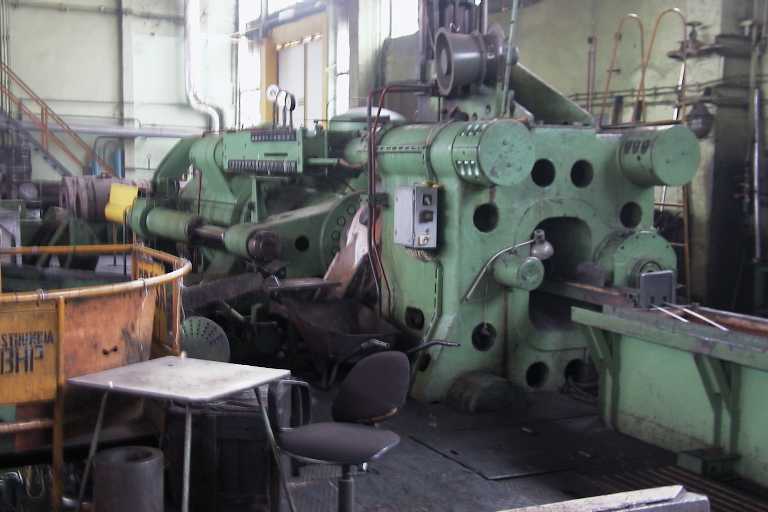 Die heater - resistance type - max temp. 550 C, working chamber 500 mm x 700 x 1200 mm, supply 3 x 380 V. installed power 55 kW.
No piercer
No run out table
No hydraulic system
We have one hydraulic system to supply press 1800 t and water press 3200 t SKODA with piercer (also available for sale).
We do not offer hydraulic system at all. ********************************** ===================================================