1250 MT ZAMET Aluminium Extrusion Press
- without the piercer

Manufacturer: ZAMET, Poland
Built: 1970
Billet, actually in use: Ø 147 mm
Hydraulic Drive Medium: Oil

General technical characteristics
Press force 1250 tonne
Max. oil pressure (line 1 and 2) 31,5 MPa
Accumulator pressure (auxiliary) 10 MPa
Possible to use container diameters 135, 155, 185 [mm]
Step adjusted extrusion speed 0,13 - 25 mm/s
Extruded products max. diameter 80 mm
Container max. stroke 600 mm
Billet max. length 600 mm
Ram max. stroke 1300 mm
Container sealing force 120 t
Container: moveable, induction heated, supplied by 55 kVA transformer, 380 V single phase / 12 - 24 V,
transformer max. admissible current 100 A
Total power installed 550 kW
Press equipped with oil filtration system (double system, flow rate 3600 l/min), filter pump capacity approx. 1000 l/min, main tank divided into 2 chambers (dirty oil and clean oil chamber)
Main pumps: Towler 5E430 / 5E430
Piston type pumps - constant capacity
Pumps situated in separate building beside the press

2 units
35 s
Induction billet heater
Supply voltage 3 x 380 V
3-phase auto-transformer power 1,1 MVA
Single-phase induction billet heater power 450 kW
Billet heater voltage (regulated via transformer) 220 - 380 V
Frequency 50 Hz
Control voltage 220 V 50 Hz and 24 V
Billet heater working length 1200 mm
Nominal billet length 200, 300, 400, 600 mm
Billet heater cooling water requirements 600 l/min
Water inlet pressure 0,4 MPa
Water hardness 6° (German degrees)
Water inlet temperature below 18°C

Billet heater complete with loading / unloading system
Control via control desk (automatic and manual mode)
Heating is possible in function of temperature or in function of time (the latter not used by us)
Operating mode is chosen with a switch located on control panel and indicated with a lamp
Depending on the heating rate required, adequate voltage is used.
Electric maintenance people carry out switching operation.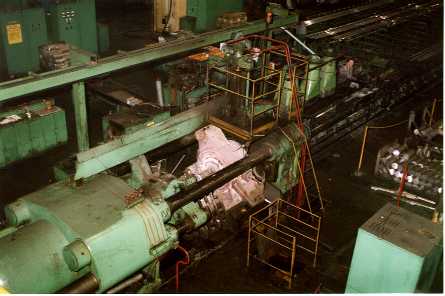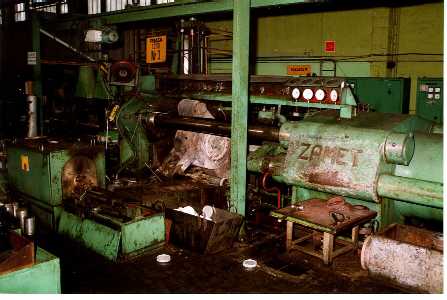 Extrusion handling system
Lead out table
length 28 m
width 300 mm
Cooling fans (over runout table)
motor power 3 kW
motor speed 1450 rpm
fan capacity 18 000 m3/h
number of fans up to 3
Side mounted shear
pneumatically driven
force 3 tonne
Take-off slat conveyor from 8 to 28 m of runout table x 1000 mm
Cooling field conveyor from 7 to 25 m of runout table x 3550 mm
Cooling fans (under cooling conveyor)
motor power 0,25 kW
fan capacity 3 200 m3/h
number of fans 9
Slat conveyor after stretcher
length 20 m
belt length 1 m
Hydraulic stretcher
stretching force 16 t
bed length 20 m
pump motor 55 kW, 1450 rpm
pump Towler 3E300/3E 145, capacity 80 l/min
Saw roller-belt conveyor
before saw (driven)
width 200 mm
length 20 m
after saw (not driven)
width 600 mm
length 8 m
Saw - make Reszel
motor power 3,7 kW
motor speed 2900 rpm
Blade diameter
saw blade mounted directly on motor shaft, and hydraulically stroked hydraulic pump motor power / speed 400 mm 0,55 kW / 1450 rpm
Puller, including:
Hydraulic station with:
oil tank hydr. oil HLP-46
main pump PZ-2K-25p
main pump motor 5,5 kW
fast return pump PZ-2K-40p
fast return pump motor 7,5 kW
control, pressure and adjustment valves
Drive system with hydraulic motor type A1F.32.WP.1.11
Puller carriage with clamping device
Releasing device
Control desk
Oil pressure in the system 10 MPa
Max. pulling force (depending on set pressure) 250 kp
Pulling speed (adjustable) from 0 to 105 m/min
Max. return speed 10 m/s
Min. return speed 1,5 m/s
Puller route length 27 m
===================================================